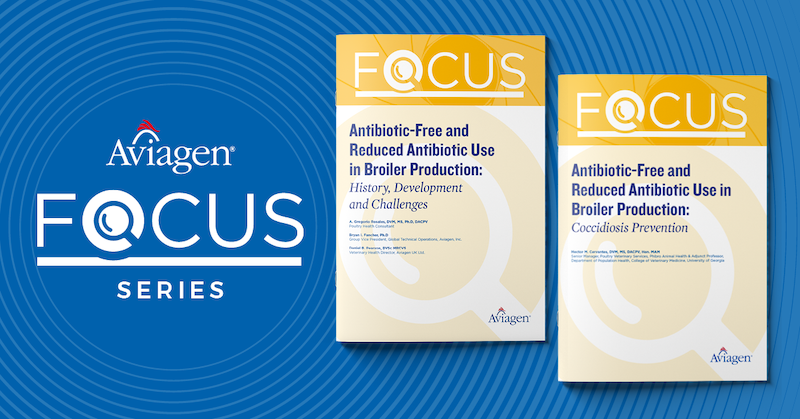 EDINBURGH, Scotland. – Aviagen® has recently launched a "Focus" document series, presenting customers with a deep dive into hot topics relevant to their operations and the wider poultry industry. Every series highlights a broad theme, breaking it into subtopics, and each document explores this subtopic in detail. Intended for a broad-spectrum audience benefiting from a deeper level of understanding, the literature is written by Aviagen and industry experts. Each publication builds on knowledge presented in the previous, enabling the overall subject series to unfold in a logical progression.
First Focus series: Antibiotic-Free and Reduced Antibiotic Use Broiler Production
Aviagen has started the Focus series by zeroing in on a much-discussed theme in the industry today: Antibiotic-free and reduced antibiotic use broiler production, and has released the first two of six documents in the series.
Co-written by Aviagen Vice President of Global Technical Operations Dr. Bryan Fancher and accomplished poultry industry veteran Dr. Greg Rosales, the first is entitled, "Antibiotic-Free and Reduced Antibiotic Use in Broiler Production: History, Development and Challenges." The document begins with providing an historical summary of subject background, and then walks the reader through topical highlights, opportunities and challenges, sharing helpful knowledge currently available on this critical issue. Subsequent releases focus on key management practices that must be considered when any broiler production business takes the decision to rear flocks with zero or reduced levels of antibiotics.
"Antibiotic-Free and Reduced Antibiotic Use in Broiler Production: Coccidiosis Prevention" is the second in the series and is co-authored by Dr. Colin Adams, Veterinary Health Director – Aviagen UK Limited; Dr. Hector Cervantes, Senior Manager, Poultry Veterinary Services, Phibro Animal Health & Adjunct Professor, Department of Population Health, College of Veterinary Medicine, University of Georgia; and Dr. Akos Klausz, Director of Global Health Monitoring – Aviagen UK Limited. This publication covers how to minimize the risk of an outbreak of coccidiosis – a serious infection of a bird's intestinal tract – when rearing broilers in an antibiotic-free or reduced-antibiotic production system.
When discussing the launch of the Aviagen Focus series, Dr. Fancher remarked, "Aviagen is excited to provide our customers with this innovative Focus series, as it will help them gain deeper insight into critical areas that impact the health, welfare and performance of their broilers and, ultimately the success of their businesses."
In reference to the first topic of the series, Antibiotic-free and Reduced Antibiotic Use in Broiler Production, Dr. Fancher also commented that, "Raising animals for meat without or with limited use of antibiotics stimulates a lot of conversation due to changing demands in the marketplace, and also because of some misconceptions that are circulating. The documents will become a key part of our expanding global communications portfolio designed to share the latest developments and best practices, and we look forward to exploring other timely and relevant topics in future Focus series."
The Focus series documents – with links to a series of introduction videos, relevant interviews with the authors and audiobook files for the documents – can be downloaded from the links above and found on the Aviagen website Information Center.