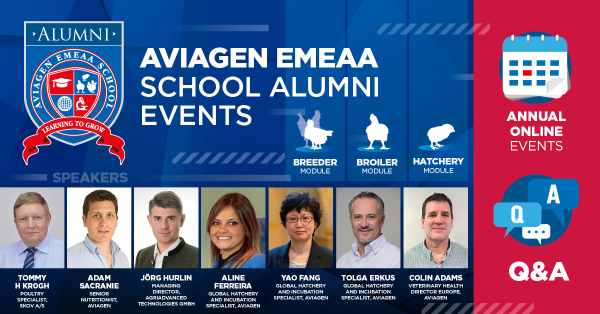 EDINBURGH, Scotland. – The Aviagen® Europe, Middle East, Africa and Asia (EMEAA) Production Management School Alumni assembled online during Feb. 8-10 for their first annual webinar series, consisting of a Breeder module on Feb. 8, Hatchery module on Feb. 9 and Broiler module on Feb. 10.
The EMEAA School Alumni association debuted last year as an online forum to enable graduates of the EMEAA Production Management School to reconnect with Aviagen and former classmates and together continue a learning journey on how to best optimize the health, wellbeing and performance of their Aviagen birds.
Led by a mix of Aviagen and external industry experts, the collaborative EMEAA Alumni modules are highly interactive, providing opportunities for students to submit questions and offer discussion ideas before and during the sessions.
Here is a recap of each event:
Breeder module. On Feb. 8, Tommy Krogh, Poultry Specialist for Danish animal production solutions company SKOV A/S, spoke on how to improve fertility through litter conditions and good ventilation. Aviagen Senior Nutritionist Adam Sacranie also led a discussion on preparing the female bird for production through optimal nutrition. The session wrapped up with a Q&A session with a panel of experts representing R&D, ventilation management and nutrition.
Hatchery module. The Feb. 9 session focused on recent innovations to maximize hatchery performance. Topics included, "Live embryo detection in the hatchery," by Jörg Hurlin, Managing Director of Agri Advanced Technologies GmbH; "New developments in temperature data loggers for hatchery use" by Yao Fang and Aline Ferreira, Aviagen Global Hatchery and Incubation Specialists; and "Tools for evaluating static pressure and fan speed in the hatchery" by Aviagen Incubation Specialist Tolga Erkus. It ended with a Q&A session with speakers and the hatchery specialist team.
Broiler module. On Feb. 10, Tommy shared knowledge on "Good ventilation – higher productivity," while Colin Adams, Aviagen's Veterinary Health Director for Europe, led a discussion on "Current disease issues and trends in broiler production." A panel discussion among R&D, ventilation, management and veterinary health experts followed.
"It was a pleasure to engage with our EMEAA School alumni in these conversations that are extremely important to achieving the best outcomes for their birds and their businesses. The success of the Alumni meetings is a fulfilment of our vision to give our former students a forum to stay connected with one another and with us, and to continue the exchange of innovative ideas that began during their EMEAA School experience," commented Glenn Bushell, School Director.