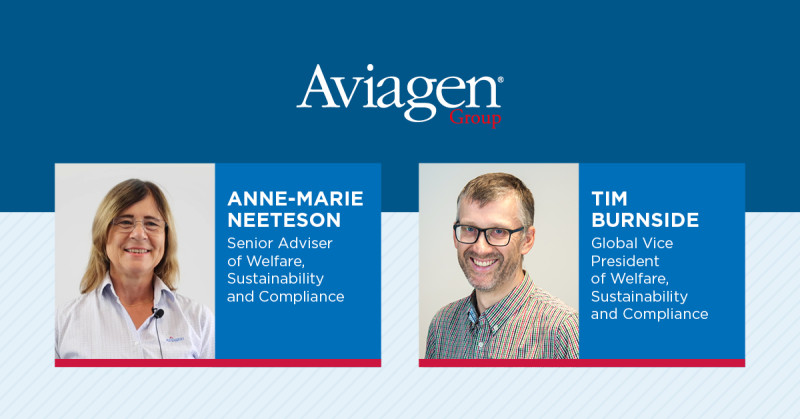 EDINBURGH, Scotland. – In an ongoing endeavor to strengthen its success in "Breeding for Welfare and Sustainability," Aviagen® Group is pleased to announce that Tim Burnside has been appointed as Global Vice President of Welfare, Sustainability and Compliance. In his new role, he will guide Aviagen Group on policies and developments that serve to enhance bird welfare and sustainability, both internally and externally. Anne-Marie Neeteson will support Tim as Senior Advisor of Welfare, Sustainability and Compliance. Both appointments are effective immediately.
"I congratulate Anne-Marie and Tim on their new important roles. They both have a proven and unwavering commitment to animal welfare and sustainability, and will continue to devote their time, talent and immense knowledge to champion these two inseparable goals within Aviagen Group and the wider global industry," said Alfons Koerhuis, Chief Technical Officer of Aviagen Group.
More on Anne-Marie and Tim
Both Anne-Marie and Tim have dedicated their careers to a cause they are both passionate about: continually improving the health and welfare of birds, as well as the sustainability of poultry businesses and the preservation of the planet for future generations.
Anne-Marie joined Aviagen Group as Vice President of Welfare and Compliance in 2011. She leads the Aviagen Group Global Sustainability Team, and chairs the Health and Welfare Working Group for the International Poultry Council. She is a Professional Animal Auditor Certification Organization (PAACO) welfare auditor and a board member of the International Poultry Welfare Alliance and U.S. Roundtable for Sustainable Poultry and Eggs.
Before joining Aviagen, she directed the European Forum of Farm Animal Breeders (EFFAB), and established and led the European Union (EU)-recognized Sustainable Farm Animal Breeding and Reproduction Technology Platform (FABRE-TP). She has also set up a patent watch, a Code of Good Practice for Farm Animal Breeding Organizations, and initiated the Animal Task Force in Europe. She holds a Master of Science degree in Genetics and Animal Science from Wageningen University in the Netherlands.
Tim began serving as Global Manager of Welfare, Sustainability and Compliance for Aviagen Group in 2019, responsible for coordinating a worldwide welfare system for chickens and turkeys, along with global sustainability projects. Before then, he worked for Aviagen Turkeys for more than 25 years, adding value to a number of areas, including, Quality Assurance, Health and Safety, Sales and Marketing and R&D.
Tim leads the Global Welfare Group and is a also a PAACO welfare auditor and member of the Global Sustainability Team. He is actively involved in various regional and global welfare and sustainability industry working groups, including the International Poultry Welfare Alliance membership committee (which he chairs), AVEC European Poultry Association, European Live Poultry and Hatching Eggs Association, International Poultry Welfare Alliance, IPC and Red Tractor. He achieved a Master of Science degree in Poultry from the University of Glasgow, UK.