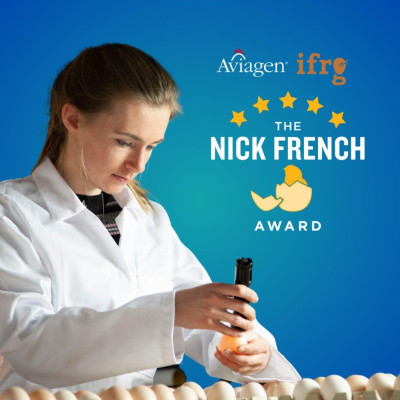 EDINBURGH, Scotland. – Aviagen® is proud to announce Lotte Hebbink as the deserving recipient of the prestigious Nick French award for 2023. Lotte, a Senior Incubation Specialist for Royal Pas Reform, impressed the audience with her winning presentation, "Exploring the Impact of External Egg Characteristics on Hatchability."
The award was presented during the Combined Workshop of the Incubation and Fertility Research Group (IFRG, WG6) and Physiology (WG12) of the World Poultry Science Association (WPSA), which took place Sept. 18-20 in Wroclaw, Poland. This event marked another successful collaboration between Aviagen and the IFRG, both deeply committed to advancing the global poultry industry through cutting-edge research and innovation. Notably, Eddy van Lierde, Aviagen Head of Global Incubation Services, served as a panelist at the meeting.
Honoring Nick French – an industry legend
Aviagen introduced the Nick French prize in 2019, illustrating the company's commitment to nurturing and supporting promising young poultry professionals. At each annual IFRG meeting, the prize awards £500 and a certificate to the young scientist who gives the best presentation, intended to help them further their career in poultry science.
Lotte Hebbink expressed her gratitude to the Nick French award panel and shared her thoughts, stating, "Winning this award, combined with the enriching discussions following my presentation, has renewed my enthusiasm for continuing my research."
Applauding the next generation who will shape our future
IFRG President Ampai Nangsuay commended all presenters for their exceptional research contributions. "These bright young professionals represent the future of our industry and are well-positioned to generate fresh knowledge and innovations, particularly in the fields of incubation and fertility, to further advance the poultry sector."
Eddy van Lierde, Head of Global Incubation Services at Aviagen, also praised Lotte for her thought-provoking presentation. "Lotte's research addresses a practical issue occasionally seen, related to egg formation, which directly impacts incubation results and, potentially, chick quality. Her work inspires us to delve deeper into potential causes of eggshell mottling, with the ultimate goal of preventing this issue for the benefit of our industry. Aviagen congratulates Lotte, as we continue to champion the pursuit of excellence in poultry science."