"In the next 40 years, humans will need to produce more food than they did in the previous 10,000 put together." – The Economist
Aviagen CEO Jan Henriksen was honored to speak recently at the biannual meeting of the International Poultry Council, highlighting key challenges and opportunities for the global poultry industry. We're pleased to present a synopsis of his talk.
Challenge 1: Sustainable production
"…sheer population growth isn't the only reason we'll need more food. The spread of prosperity across the world, especially in China and India, is driving increased demand for meat, eggs, and dairy, boosting pressure to grow more corn and soybeans to feed more cattle, pigs, and chickens." – National Geographic
The global population is on track to reach 10 billion by 2057, which will place a greater demand on food production. At the same time, we are seeing increased prosperity in regions with the highest population growth. These modern consumers put a high priority on welfare, transparency, and sustainability when making their food choices. As a result, we are faced with a unique challenge to harness technology to bolster production, while continuing to advance bird welfare and sustainability.
The good news: Years of experience have taught us that animal welfare and sustainability go hand in hand. Robust, healthy birds that are well-cared-for excel in performance, leading to economic sustainability for producers. They are also more feed efficient, with a multitude of sustainability benefits. Feed efficiency reduces CO2 emissions, lowers environmental pollutants, and minimizes the use of natural resources such as land and water, aligning with our commitment to environmental sustainability.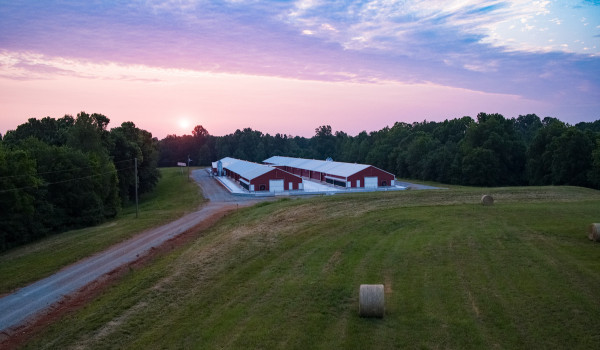 For decades, Aviagen has leveraged leading-edge technology to select the healthiest, most robust birds with the best welfare traits, performance, and feed efficiency. This balanced breeding approach remains at the core of our industry's evolution.
Moreover, excellent and routine veterinary care is paramount, and here is where technology can help as well. At Aviagen, we offer remote veterinary support via live streaming and virtual reality, providing immediate care and advice from top experts.
Challenge 2: Security of supply globally
Challenges like avian influenza, political conflicts, trade disruptions, and natural disasters are a continual threat to our industry. Our strategy to overcome these obstacles is multifold. First, we collaborate closely with our global export allies, finding innovative approaches to keep transportation routes open. Next, we work to safeguard against harmful pathogens. Healthy birds are more disease resistant, and through balanced breeding, Aviagen selects the strongest, most robust, healthy birds with good welfare.
To further protect our birds from disease and strengthen our ability to export, we uphold the highest biosecurity standards. Strict control and continuous monitoring of the movement of individuals and equipment between farms help minimize the risk of pathogen exposure. Furthermore, robust pest and rodent control measures help prevent contamination. Additionally, measures such as compartmentalization help facilitate the safe shipment of birds from designated biosecure farms in the event of a disease outbreak.
Technology heightens biosecurity and welfare
Technology can play a major role in advancing biosecurity and welfare for the entire poultry sector. Modern climate-controlled housing equipped with remote monitoring ensures an ideal environment for optimal bird welfare. Artificial Intelligence (AI) tools and smart sensors are instrumental in identifying and quantifying signs of bird distress, enhancing our ability to respond promptly. Finally, during transit, we can ensure bird health with GPS devices that monitor temperature and environmental conditions.
Innovating for the future
"INNOVATION is a constant thing. You're always looking for the next innovation, the next niche, the next product improvement, the next service improvement. But always trying to get better." – Jack Welch, American Business Executive
Our industry's knowledge has grown exponentially over the past half-century, and we must continue to take the lead in driving innovation. In our balanced breeding practices, Aviagen has consistently prioritized traits that enhance bird health and robustness. This commitment has been a cornerstone of our industry's approach for decades. An emphasis on both balanced breeding and innovation will remain at the heart of our industry's evolution for years to come.