The Nick French Award was introduced in 2019 to recognize and encourage innovative young scientists
EDINBURGH, Scotland. – Ir. Matthias Corion, PhD student at the Department of Biosystems, Division of MeBioS, at the University of Leuven (KU Leuven) in Belgium, is the second Nick French Award winner. His research is funded by the Foundation for Food & Agriculture Research (FFAR) and the Research Foundation - Flanders (FWO). A Committee of the Incubation and Fertility Research Group (IFRG) of the World Poultry Science Association (WPSA) selected the prize recipient.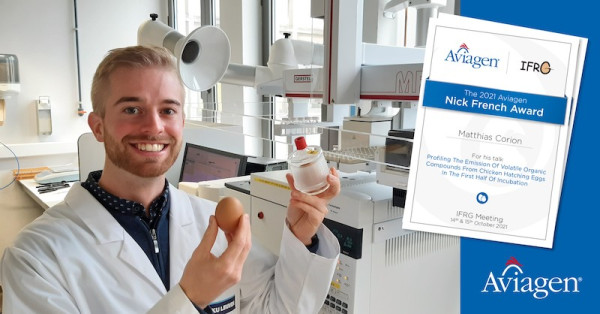 The committee was impressed by Matthias's engaging presentation on 'Profiling the emission of volatile organic compounds from chicken hatching eggs in the first half of incubation'. The content of his study includes novel and innovative research, which could offer some useful tools for managing incubation conditions in the future.
Aviagen® initiated the Prize in 2019 to honor the lifelong contribution Nick French made to hatchery and incubation research, initially at Aviagen Turkeys, then at Aviagen. The aim is to choose the best among IFRG presentations by a young scientist each year. Because the IFRG meeting was cancelled last year, this is the first recognition since the inaugural prize went to Naama Reicher, a student at the Hebrew University of Jerusalem, Israel.
"We are dedicated to supporting bright, up-and-coming young talent. They are our future, and the sustainability of our industry depends on their creativity and passion," explained Dinah Nicholson, Global Head of Hatchery Service and Support. "We look forward to seeing the inspiring presentations next year, and we always appreciate the opportunity to exchange ideas on the latest developments in hatchery and incubation, working together with our industry colleagues toward the pursuit of knowledge that serves to strengthen the health and welfare of our chicks."
"I am delighted and grateful for this wonderful recognition. It makes me enthusiastic to receive such positive feedback on the work of my PhD research. Thank you, Aviagen and the Committee, for choosing me for the Nick French Prize," added Matthias.
Ampai Nangsuay, President IFRG, concluded: "I really enjoyed Matthias's talk at the IFRG, and am looking forward to hearing more about his excellent research in future meetings. It is great that the Nick French award gives us this opportunity to recognize the promising young scientists working in incubation."