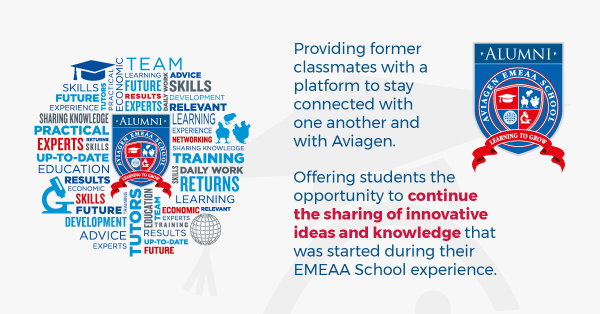 EDINBURGH, Scotland. –Aviagen® Europe, Middle East, Africa and Asia (EMEAA) Production Management School Alumni recently got together for the first in an annual webinar series.
Graduates of the EMEAA Breeder module met on Oct. 26; Hatchery module alumni gathered on Oct. 27; and former Broiler module students convened on Oct. 28. Event participants enjoyed reconnecting with the Aviagen EMEAA team and classmates and finding out more about the Alumni and its objectives. The sessions included a number of polls, providing an opportunity to offer ideas for topics to discuss in the 2022 series, which is planned for February.
Highlights of each module included:
Breeder and Broiler modules: "An Introduction to the Alumni Initiative" by Alan Thomson, Global Head of Technical Transfer
Breeder module: "Importance of data and breeder performance update" presentation by Glenn Bushell, Global Technical Transfer Manager and EMEAA School Director
Broiler module: "Importance of data and broiler performance update" insights by Stuart Thomson, Head of UK Sales & Technical
Hatchery module (hosted by Global Hatchery Support Team): Welcome by Guo Jun, Incubation Specialist; introduction to the Alumni by Tolga Erkus, Incubation Specialist: "Importance of Data – a Case Study" by Dinah Nicholson, Global Manager, Hatchery Development and Support; Wrap-up by Yao Fang, Hatchery Specialist.
Forum for valuable knowledge exchange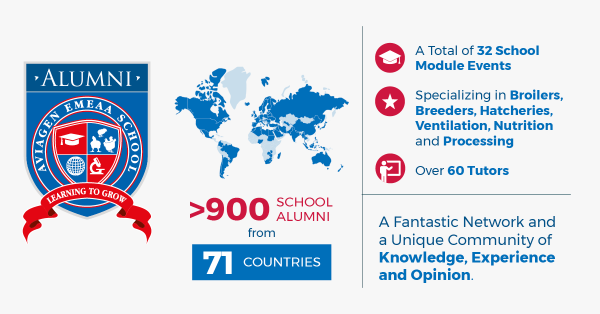 Aviagen founded the EMEAA Production Management School Alumni Association this year as an exclusive forum open to all former School participants – to date more than 900 EMEAA School alumni representing 71 countries.
Glenn Bushell commented, "Our intention for the Alumni initiative is to give former classmates a platform to stay connected with one another and with Aviagen, and to continue the sharing of innovative ideas and knowledge that was started during their EMEAA School experience."